Planning Your Event
If you don't know where to start, the Perth Convention Bureau can connect you with your event planning needs.
Perth Event Connection - Referral of Conference Services
This is a free-of-charge service staffed by Perth Convention Bureau specialists providing unbiased professional advice on all the conference and meeting services available to you in Western Australia. Perth Convention Bureau's members can supply absolutely anything you require - from venues to bus companies. Contact the bureau info@pcb.com.au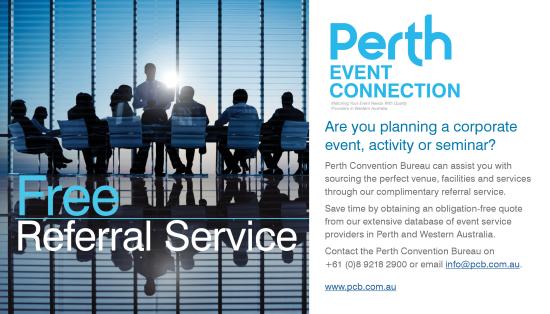 Professional Conference Organiser Tender Service
If you decide to outsource some of the organisational aspects of your conference, Perth Convention Bureau is happy to assist with your tender process to appoint a Professional Conference Organiser (PCO). We can aid in the creation of a brief and can circulate the tender document on your behalf via Perth Event Connection. We can then facilitate the collection of proposals for your consideration to help you select a PCO.
Indigenous Content
Conference and event organisers wishing to acknowledge our Indigenous culture and the custodianship of country are invited to include a 'welcome to country' in their official welcome ceremonies. We can put you in touch with WAITOC (Western Australian Indigenous Tourism Operators Committee) who will assist with information on the appropriate indigenous content and who to contact. Please note that WAITOC operators may charge a fee for performances.
Immigration & Visas
The Perth Convention Bureau can introduce you to specialist advisers at the Department of Immigration and Border Protection who can help streamline the immigration and visa process for your delegates.